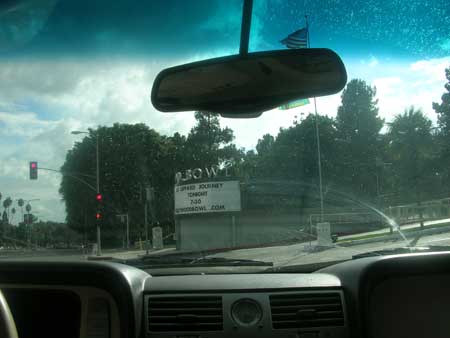 Intro –
The announcement that most have guessed was coming is finally here. Jeff Scott Soto has officially been welcomed into Journey as the band's new frontman.
Steve Augeri was replaced by Jeff three dates into the 2006 Summer tour with Def Leppard due to throat problems and has now stepped down after leading the band for some 8 years.
Steve took over the hardest position in rock n roll, given the task of leading a band back into active duty, following their decision to move on without vocalist Steve Perry. Augeri did an admirable job for the band before vocal problems began to get the better of him.
Augeri had to work with a fanbase that was polarized by the idea of a Perry-less Journey. There were those that remained loyal to Perry, but Steve worked hard at winning fans over and did so with his natural charm and likeability.
Steve Augeri is today regarded as much for being the 'good guy' as he is for being the 'new singer' and he now has a passionate and loyal following of his own. He truly is a nice guy and someone that has made time for fans and worked hard at overcoming being known as 'the guy that replaced Steve Perry.'
Augeri's contribution to the band to date has forever been captured on the acclaimed, and quite superb, Arrival album and last year's more diverse Generations release.
Change is never easy and it will take some fans a little time to adapt to the new look line-up, but it is time to move on and the majority of those attending the 2006 shows have quickly been won over by Jeff Scott Soto's on stage energy and engaging personality.
It has been great for me personally to see Jeff finally playing to an audience size that he deserves and this line-up quite simply is the talk of the melodic music world. Every where I go, from the crowds in the USA to those in the UK (at Firefest recently), it is all about Journey.
The enthusiasm of the audience and the new frontman has not been missed by those sharing the stage with Jeff. The Journey I saw in LA were simply electric on stage and off-stage there is nothing but high-fives, mutual back-slapping and big, broad smiles.
Management are completely behind the band and Neal speaks passionately about his and the band's desire to do live TV appearances, video clips, press…you name it.
I hope that the great feeling that came from writing these reviews, interviews and general commentary of life in Journey for the new line-up will translate to those reading this and I hope you will all recognize a band with so much still left to offer and so much desire to continue to make their mark on the world, even after all these years of doing just that.
I genuinely feel that this is the start of a very promising new chapter for the band and for the organization behind them. It is clearly a very united and enthusiastic team working here.
I'd like to thank Jeff and Rebecca for their hospitality while I was in LA and I'd like to also thank Neal, Jon, Deen and Ross for having me out there to take in a couple of shows and hang out for a few days. I might add that there is no Ross interview only because he had his family out on the road with him and we didn't have the one on one time I had with the other guys.
Journey Speaks –
Neal Schon: "The energy's like, he's so contagious. I found that out about him when I worked with him in Soul Sirkus, the energy is completely contagious. That's flying all over the stage now. Everybody's got like new life. The whole band has got new life. It's a brand new band. The way management's looking at it now is this is a brand new band. It's insane. I'm excited about the future now…We're gonna make a great sounding record… I'm concentrating more on hooky choruses and you know, making it really melodic, giving Jeff something to sing on."
Jonathan Cain: "Yeah, we just threw him out there to the wolves and then there he was. He just responded like Rocky Balboa and started swinging and worked his way through it. He really brought it together and I think every show he does gets a little better and it's impressive you know. What he's done is very impressive. So Jeff kind of saved us on the tour. I didn't know what was gonna happen."
Deen Castronovo: "I enjoy Jeff. He's so much fun to watch and he does play off of me, we play off each other which is really cool. And I play off of Neal of course and when Neal's smiling and he's happy I know we're good. You know, if Neal's not happy usually the band's not doing so well. He's content now. I think for the first time in many many years. And it's nice, it's nice to see".
Jeff Scott Soto: "I'm extremely excited about what I'm gonna be able to bring to this band. What I'll be able to contribute into hopefully, not necessarily reinventing Journey, but kind of reopening what once was: because obviously they haven't had any real major radio hits or major video play, that type of thing. People have basically come to know Journey as seeing them on tour and playing the classics and playing the Dirty Dozen as they call it. I'm hoping to help turn it around the same way Sammy Hagar turned Van Halen around. That people are just as excited to see new stuff."
My Words & Pictures –
Tour Diary – A day by day account of the trip, along with additional insights, thoughts and comments from myself and those I talked to around the band.
Hollywood Bowl Review – Friday, October 13 – Review and Pictures
San Bernardino Review – Saturday, October 14 – Review and Pictures
Photo Gallery – Additional pictures not included elsewhere, taken during soundcheck and from behind the scenes.
Journey Speak: 2006 Band Interviews –
c. 2006 / Andrew McNeice & MelodicRock.com