::: NITRATE returns with "Renegade" on July 30th, 2021! :::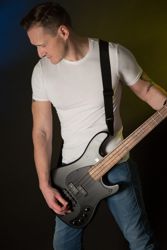 (c) Nitrate/ Nick Hogg
Nitrate is back with their third album; 'Renegade', a follow on to their previous highly rated albums 'Realworld' in 2018 and 'Openwide' in 2019, which achieved great success. Inspired by the late 80's rock scene with bands such as Def Leppard, Europe, Motley Crue, and Bon Jovi, Nitrate is the brainchild of song writer Nick Hogg (bass guitar) from Nottingham England. Nick has this time changed the line-up and enlisted Alexander Strandell (Art Nation) to take over on Lead Vocals & has teamed up with Tom & James Martin (Vega) & Mikey Wilson (Kimber) to produce an album that has been heavily influenced by Def Leppard's 'Hysteria'. With Tom Martin playing all the rhythm guitars and James Martin taking over on Keyboards the album delivers a more melodic/AOR feel than ever before. Renegade delivers 11 Hook filled tracks with great melodies, walls of keyboards and backing vocals supplied by Alessandro Del Vecchio. Tracks were inspired from bands such as Def Leppard, Starship, Journey, Skid Row, and Roxette making for a true 80s sound. Taking over on Lead Guitar is Dario Nikzad (Hell to Play).
Nitrate is: Nick Hogg – Bass Guitar, Alexander Strandell – Lead vocals, Tom Martin – Rhythm Guitars, James Martin – Keyboards, Dario Nikzad – Lead guitars, Mikey Wilson – Drums  p; & additional guitar and keyboards, Alessandro Del Vecchio –  Backing vocals;
Produced by Tom & James Martin & Mikey Wilson; Mastered by Alessandro Del Vecchio; Engineered by Tom & James Martin, Mikey Wilson, Alexander Strandell, Dario Nikzad, Alessandro Del Vecchio & Paul J King
Music recorded at Strandell Studios – Sweden, Osborne Studios – UK, Ivorytears Music Works – Italy, Soundwave Studios – UK
Mixed by Mikey Wilson ; Mastered at Ivorytears Music Works
All songs written by Nick Hogg, Tom Martin & James Martin Except 'Alibi' & Children of the Lost Brigade' Written by Nick Hogg & Rob Wylde & 'Renegade' written by Tom Martin, James Martin & Nick Workman
Album Artwork by Nello Dell'Omo
Facebook: www.facebook.com/Nitrate-100323740377514/
Spotify https://open.spotify.com/artist/6wEVMZieIv9ttCzvuDYev8
Itunes https://music.apple.com/us/artist/nitrate/1422493773
Danger Zone (Official Lyric Video): https://youtu.be/CtD_XMARcG4
Release date: July 30th, 2021
PR world-wide: info@germusica.com
Haulix: May 31st, 2021
*****
::: STEPHEN CRANE & DUANCE SCIACQUA team up for "Big Guns"! :::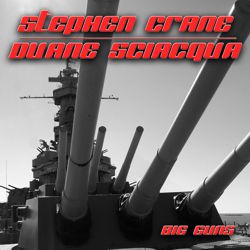 Big Guns was formed in 1985 as a direct follow up to the record "KICKS" by Stephen Crane (MCA 1984). Due to Irving Azoff's departure and the ensuing shake up at MCA that year, KICKS was left without any marketing or promotional funds and was basically 'Dead on Arrival' and did not chart. Although, interestingly enough, the record has subsequently been re-released two times in Europe and has received rave reviews!
As a result of MCA's inability to promote the album and band, Stephen Crane and Duane Sciacqua continued their quest to write and record new songs that were, and still are relevant in the world of Rock! Joined by then band member, Johnny Burnett (RIP), Crane and Sciacqua soon enlisted fellow band mates Paul Daniel (drums), and Matt MacKelvie (guitars, keys, vocals) and created "BIG GUNS". They began a series of recordings with engineer Brett Gurewitz  at his Hollywood studio. Crane and Sciacqua wrote, or co-wrote, and produced the songs that would become their self-titled album "BIG GUNS". The band became a staple playing around Hollywood at the ROXY, FM Station, and other well-known rock venues. They received label interest but could never reach an amicable agreement and their search waned – players moved on, lives changed and BIG GUNS faded into the Rock n Roll sunset.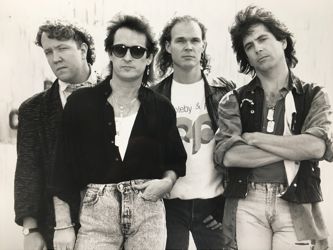 Many years later as good fortune would have it, the once forgotten Stephen Crane album (KICKS) received its popular acclaim, and the search for the long forgotten tapes was on. Georg Siegl at AOR Heaven, sought out guitarist Sciacqua for material, and the re-emergence of BIG GUNS was underway. After searching through the archives of years past, Sciacqua found the missing BIG GUNS tapes and through careful remastering and some re-recording was able to render the 10 tracks that make up the album.
This project stands as a monument to the songwriters, the singers and the players who dedicated their time and talents to comprise their self-titled album "BIG GUNS".
STEPHEN CRANE & DUANE SCIACQUA – Gangland (Official Audio): https://youtu.be/su8yDRKCFhw
Release date: July 30th, 2021
PR world-wide: info@germusica.com
Haulix: May31st, 2021
*******
:::TUPLE releases new video for "Welcome To Hell" today!" :::
"Welcome To Hell" (out today) is the follow-up to the highly-acclaimed "Wooden Box" album by TUPLE which was released in 2020 via AOR Heaven and resulted in a charty entry in the native country of this Finnish artist.
Finland is well-known for its Heavy Metal roots. Far and wide comes the list of Metal bands that are known all around the world. But there's also a strong Melodic Rock/AOR community. Bands that rely, not only on heavy riffing, but also strong melodies and larger-than-life keyboards. TUPLE is a good example of it. Catchy songs, great melodies, fine artistry.
To celebrate today's album release, TUPLE has released another video today:
TUPLE – Welcome To Hell (Official Video): https://youtu.be/a37a39ePZ7s
The band is:
Tom Rask – drums; Jykä Sirainen – bass; Riitis – guitars,keys and backing vocals; Tommi "Tuple" Salmela – vocals and backing vocals
Noora Louhimo (Battle Beast) – guest vocals on 'Survive'
Tony Kakko (Sonata Arctica) – additional backing vocals
Janne Tolsa – mixing, mastering and additional keys
Erkka Korhonen – guitar solos on 5 songs
www.facebook.com/Tupleofficial